Unlike our competitors our rates include all but your fishing license. No parking fee, marina use fee, fuel surcharge, booking fee or any other FEE. Custom fishing trips and times are available upon phone request.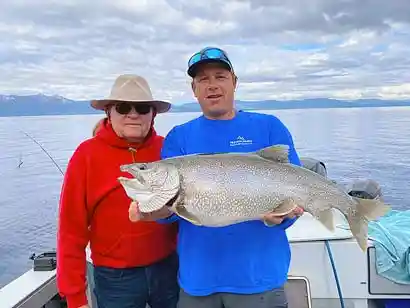 AFTERNOON FISHING CHARTER
Fishing license isn't included. You can purchase a fishing license online: Buy License
Lake Tahoe is a pristine High Mountain Lake on the Eastern Edge Of the Sierra Nevada Mountain Range. Situated in a bowl of mountains at 6224' of altitude weather, sun and lake conditions tend to vary a great deal within a short period of time.
Always dress in layered clothing for your comfort while on the water. Many ask about sea sickness, it is extremely rare as we are situated in a bowl and hiding from the wind is usually fairly easy.
Our trips start from our office in The Tahoe Keys Marina. Enjoy a cup of coffee from our Keurig Coffee Maker while the Captains are preparing the boats. Always best to arrive at least ten minutes prior to departure. Be sure to arrive with your fishing license, sunscreen, hat and sunglasses the elements can be harsh so proper preparation is crucial. Also remember a good camera, Lake Tahoe is an amazing place, your Captain is always happy to take a few pictures with you and your group. Once aoard our beautiful Lake Tahoe Fishing Boats, the Captain will explain the days plan.
At Mile High Fishing we are proud to be licensed in both California and Nevada. We work extremely hard to plan ahead and fish the hottest spots on the lake. With that said travel time to the fishing grounds is anywhere from 5-50 minutes. Once you arrive at your location we will take great care in preparing you for what to expect. A thorough explanation of how to use the gear and the days technique can be some of the most important few minutes of the trip.
Our boats will utilize the most productive methods for that period of which are light tackle trolling or jigging. Lines in the water can last 3-5 hours depending on your trip. Once you are done fishing we will take pictures of your group and then clean your catch. Be sure to ask your guide for ideas on how to prepare your fish or what local restaurants will cook them up for you. Our 25 years of experience Guiding and Chartering on Lake Tahoe is why we provide an unmatched experience for your enjoyment, comfort and safety while fishing beautiful Lake Tahoe